The Dresden Children's Museum
Hearing, seeing, smelling, tasting and feeling: with our five senses we're able to explore the whole world. Each one of us in our own special way. But how do we do it? How do our sensory organs actually work? The Children's Museum has lots of experimental stations and games for you that are not just fun, but also real eye-openers.
There are five theme-based islands with large models of the human eye, ear, tongue, nose, and skin. They also contain information and films designed to illustrate exactly how each sensory organ works. After that, it's time for you to start experimenting! Is it possible to hear back-to-front? What does a shadow look like in colour? What mysteries lie hidden inside the three caves? Stuck? Don't worry: there are lots of imaginatively illustrated instructions to help you out. Each theme-based island also showcases a precious object from the Museum's collection.
And by the way, the World of the Senses offers full barrier-free access!
Even the narrow mirror maze is wheelchair accessible. You can listen to all the really important information through headphones, watch it on video in German Sign Language, or read it in easy-to-understand texts in German, English and Czech.
The Children's Museum is ideally suited for children aged 5 to 12. And it's most fun if you explore it with an accompanying adult – they're bound to learn something new, too!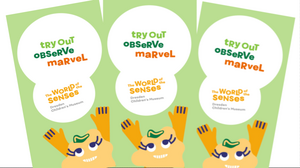 Interactive Flyer: Try out - Observe - Marvel
Our interactive flyer animates you and your family to discover the five senses together!
PDF-Version