About the exhibition
Curator: Isabel Dzierson, DHMD
Scientific and Curatorial Associates: Wiebke Drescher, Anina Falasca
Exhibition Design: BOK + Gärtner, Münster
Illustrations: Slinga, Leipzig
Is this the right moment for an exhibition on the topic of Happiness? Given the current political and social upheavals, and the anxieties accompanying them, the Deutsches Hygiene-Museum believes wholeheartedly that it is. Positive emotions – according to this exhibition's thesis – are an important factor in developing resilience during individual and social crises.
Hello Happiness! is based on the exhibitions Joy and Tranquillity, which were curated at London's Wellcome Collection by Laurie Britton Newell and George Vasey in 2021. In its six sections, the exhibition presents various practices whereby positive emotions develop and in turn affect people's perception of themselves. There are examples of such moments of happiness in many areas of life: the euphoria of exuberant dancing, an infectious laugh, and a meal with friends, as well as the hope arising when working mutually toward a political goal, the satisfaction of solving a complicated task, and the calm of meditation.
In addressing the transience and ambivalence of feelings, the exhibition moves from the individual to the collective. Positive emotions are viewed as a source of energy open to everyone, without, however, ignoring the fact that there are numerous social and cultural prerequisites for a successful and happy life.
Another central motif of the exhibition is the physical experience, which ranges from ecstatic moments of happiness to quiescent self-awareness.
Central elements of the exhibition are the numerous contemporary artistic works and interactive stations, most of which were developed specifically for this project. In addition, there are many historico-cultural and scientific exhibits that delve into the sections' respective subject matter.
Exhibition Sections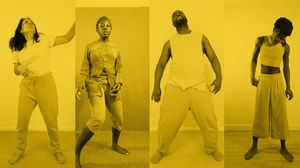 I. Letting Go
The section titled Letting Go invites visitors to leave daily life behind and to discover the various ways and techniques with which people transport themselves into euphoric, ecstatic or intoxicating states. An impressive exhibit in this section is the video Joy Inside Our Tears (2021), in which Ghanaian-born artist Harald Offeh explores the social and healing functions of collective dance, which took on unexpected relevance during the COVID pandemic.
Here visitors first see the drawings of Leipzig graphic artist Slinga, who illustrated the introductory texts in all sections of the exhibition.

Photo:
Harold Offeh, Joy Inside Our Tears (2021), video with audio, 2021
A dance floor can cause euphoric feelings because it draws people together. Yet dancing publicly expresses more than collective joy. Especially in times of crisis and trauma, dancing can form social connections, offer release and strengthen people's resilience. In this sequence of films made during the COVID-19 pandemic, these performers maintained their distance, yet still danced together.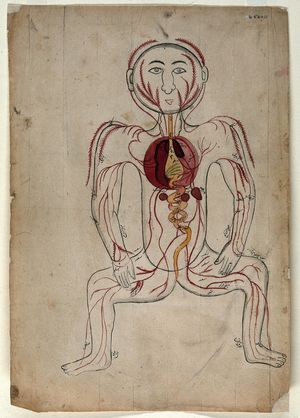 II. FEELING
Where do our emotions actually originate? To answer this question, the Feeling section looks inside the body. After exploring the conceptual history of feelings, the section presents scientific findings about where they are located and how they function. For centuries the natural sciences attempted to discover how and where emotions arise and which role individual bodily regions play in this process. Yet these explanatory approaches differed greatly culturally and historically. In Europe, for instance, it was long believed that feelings were universal and could be similarly measured in all people. It is now known that emotions comprise individual sensations and physical reactions, but are also determined by external stimuli as well as experiences and memories.
An interactive map by scientist Alan Cowen illustrates, for example, the relationship between different types of humor and laughter.

Photo:
The viscera and the venous system, Unknown, 19th century, watercolor on paper, Iran, Wellcome Collection, London
This anatomical drawing identifies the digestive and nervous system as the origin of feelings such as sadness and melancholy. It references the respected 11th-century Islamic work by Ibn Sina (Avicenna), The Canon of Medicine, which remained a standard text of medical education well into the 19th century. Current research into the microbiome also sees a connection between the gut and mental health.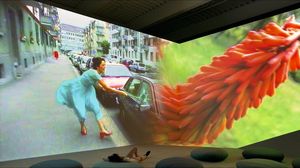 III. HOPE
Actions of protest and solidarity are the focus of the section Hope. Here, it primarily has to do with the potential positive emotions can unleash when dealing with moments of social and personal crisis. Hope is a motivating force and provides comfort. Compassion builds cohesion; humor can provide relief and offer new perspectives. Some social movements and artistic works use positive emotions and joyful forms of protest to address societal ills. In this context, the iconic video work Ever is Over All (1997) by Swiss artist Pipilotti Rist, showing a young woman randomly smashing car windows with a flower, represents the joyous, anarchistic power of feminist protest.

Photo:
Ever is Over All. Pipilotti Rist, 1997, two-channel video, 4:07 min., Courtesy of the artist, Zurich
In the Swiss artist's video, a young woman smashes car windows with a flower on her way through the city, while at the same time a colorful, flowering meadow appears as if in a dream. Rist thus transforms a destructive, aggressive impulse into a hopeful, cathartic moment. The work is often interpreted as a powerful, sensual appeal for joy and anarchy within the context of feminist protest.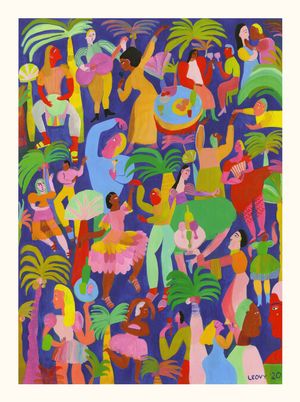 IV. Together
In the section titled Together, the focus is on friendship, family and other communities. Some people flourish in large, sociable gatherings, whereas others recharge their batteries while spending time alone or in small group settings. Strong interpersonal relationships promote well-being and health, whereas involuntary loneliness can make people unhappy and even ill. In relationships we also learn to endure conflicts and make compromises, which is indispensible for social cohesion. The dynamic, intensely colorful image Celebration (2017), by Mexican painter Analeovy Pereznafarrate can be read exemplarily in this context as an homage to the joy of collective celebration and cooperation among very different people.

Photo:
CELEBRATION, Analeovy Pereznafarrate (* 1990), 2017, poster (reproduction), Stiftung Deutsches Hygiene-Museum, Dresden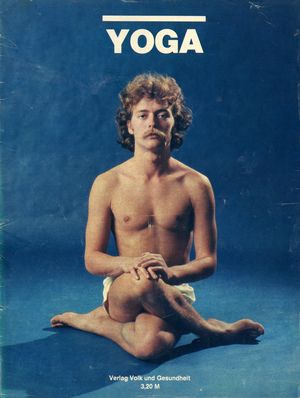 V. CALM
The fifth section, Calm, also gives the visitors space to catch their breath. It deals with the various methods of relaxing – from spirituality and meditation to self-reflection and wellness. A historical "wave and rocking bath" recalls how a – hopefully – relaxing bath could be taken in a very confined space around 1900. This peculiar object from the DHDM collection has never before been exhibited.

Photo:
Yoga in EAST GERMANY, VEB Verlag Volk und Gesundheit, 1986, paper, Stiftung Deutsches Hygiene-Museum, Dresden
In East Germany (GDR) yoga was long forbidden. It was considered a religious practice, contradicting the atheist state doctrine. Yet some people secretly engaged in yoga, with its focus on health. Beginning in the mid-1980s, yoga was increasingly tolerated and studied scientifically in the GDR. This change was triggered by a cosmonaut, who through his profession served as a role model. While in orbit, he performed yoga postures in a Soviet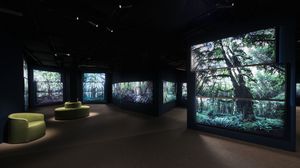 VI. NATURE
This section on Nature explores its beauty and soothing and relaxing effect on people – something visitors to the exhibition can also experience sensorily. It also considers the relationship between humans and animals and the urgent need to vigorously protect the natural environment. The contemplative spatial artwork, Regarding Forests (2019), by artist Chrystel Lebas engages the senses of hearing, smelling and seeing, and transports a piece of nature into the exhibition space.

Photo:
Chrystel Lebas: Regarding Forests [Den Wald betreffend], 2021, multisensory installation, scent design: Tasha Marks | AVM Curiosities, sound design: Paul Richardson, Tom Slater, courtesy of the artist, London
Lebas travelled to the Hoh Rain Forest in Washington State, USA, in search of a place free of human noise called 'one square inch of silence', and on to the Japanese island of Yakushima, known for its cedar trees. These two rain forests contain some of the oldest living trees in the world. She used a slow exposure camera and sound recording equipment to capture the atmosphere of these places. Translating the sublime power of these ancient forests to the gallery, Lebas's sensory installation creates a sense of awe, and serenity. It reminds us of our reliance on the natural world to help regulate our internal emotional worlds.
In cooperation with

WELLCOME COLLECTION, LONDON
Hello Happiness! is based on the exhibitions Joy and Tranquillity, which were curated at London's Wellcome Collection by Laurie Britton Newell and George Vasey in 2021.
Wellcome Collection is a free museum exploring health and human experience. Its vision is to challenge how we all think and feel about health by connecting science, medicine, life and art. It offers changing curated exhibitions, museum and library collections, public events, in addition to a shop, restaurant and café. Wellcome Collection publishes books on what it means to be human, and collaborates widely to reach broad and diverse audiences, locally and globally.

Wellcome Collection actively develops and preserves collections for current and future audiences and, where possible, offers new narratives about health and the human condition. Wellcome Collection works to engage underrepresented audiences, including deaf, disabled, neurodivergent, and racially minoritised communities.

Wellcome Collection is part of Wellcome, which supports science to solve the urgent health challenges facing everyone. We support discovery research into life, health and wellbeing, and we're taking on three worldwide health challenges: mental health, infectious disease and climate and health.
Funded by